Horace Rumpole, that Old Bailey hack, is at it again, preserving the innocent and undermining the pompous with his razor wit.
A Rumpole Christmas
comprises some heart-warming tales, but it's also somewhat sad to read these stories knowing they were published posthumously within the same year of John Mortimer's death. He was a busy writer in his later years, churning out an impressive Rumpole cannon.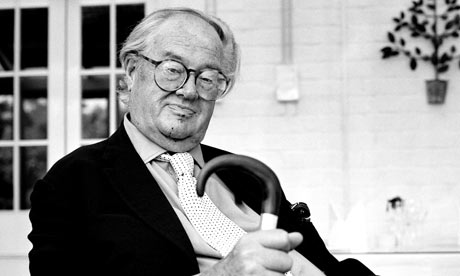 Often the stories are very short, relative to Mortimer's average. In fact, a couple of them are mere ideas, nothing more than a scene that evokes a feeling, mostly of goodwill and Christmas cheer in the Rumpole fashion. And they are more of the same. Daft buggers like Uncle Tom and the cretant Claude Erskine Brown show up to entertain the reader and/or annoy Rumpole. Pommeroy's wine bar and "She Who Must Be Obeyed" appear or at least get mentioned in every story, as per usual. Rumpole beats the odds, often having to do battle with an unnaturally difficult judge, and - if not always victorious - gets to the bottom of the case.
The Rumple stories are not classic, must-read literature, but if they strike your fancy they can provide a very pleasant diversion, and
A Rumpole Christmas
, while not the best of the Rumpole series, makes for a pleasant enough Christmas time reader.